2017 Events

Coming up at your Third Warders Club:

Kitchen closed Wed. Nov. 22nd & Fri. Nov. 24th
The Club will be open at 9:30 am on Thanksgiving
Day November 23rd with Happy Hour prices.

Saturday afternoon Dec. 2nd - Ladies Auxiliary Basket Raffle in the Lounge
​Donations are greatly appreciated.

Saturday Dec. 2nd Election Day (Polls open 12- 6pm

Saturday December 2nd - Building Fund Raffle (6:30 pm in the Gym)
See Al Fronczak for tickets to be a seller or to buy.

Sunday December 10th - Children's Christmas Party - 1 - 4 pm
​Must sign up at the club NO EXCEPTIONS!

CHOWDER THE FAMOUS ST. JOE'S RECIPE
Saturday December 16th - Ready at Noon - $4 a quart

Monthly Meetings 2 pm every second Saturday Jan - May, Sept.-Dec. (No meetings June, July, Aug)


REMINDER: DUES ARE ALWAYS DUE BY SUPER BOWL SUNDAY

IF YOU ARE ELIGIBLE FOR $15 DUES YOU HAVE TO BE A MEMBER FOR 5 CONSECUTIVE YEARS AND 60 YEARS OF AGE BEFORE SUPER BOWL SUNDAY.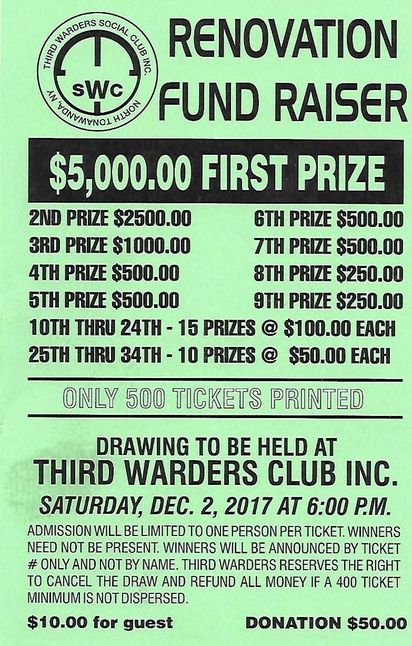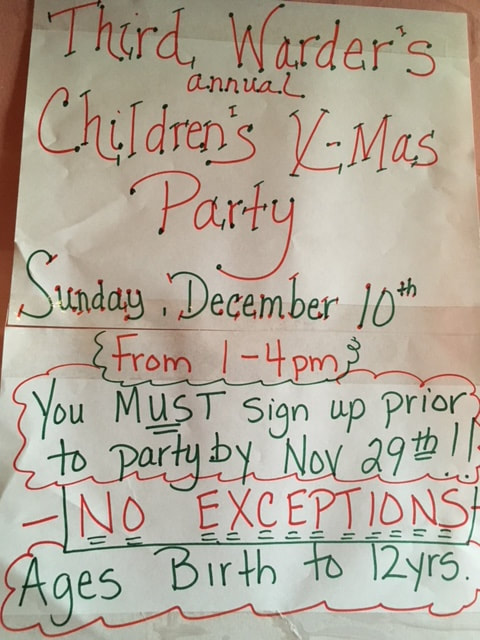 If you would like a ticket to the Renovation Fund Raiser, inquire at the bar or contact chairman Al Fronczak.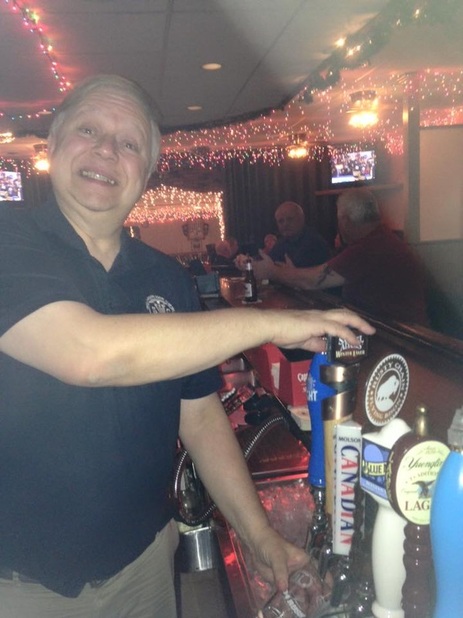 Welcome to the THIRD WARDERS CLUB

The "Best" Social Club in Town and here's why:

 Newly renovated Gym Floor open for all members.

 Banquets, Funeral lunches and all Parties for large or small functions call 692-7357 ask for John Laper, Manager.

 Volleyball, Basketball, Pickleball Leagues and more.

 Cheapest Drinks in town and Happy Hour Prices too.

 Shuffleboard table in Lounge.

 March Madness with Happy Hour pricing and food.

 Shower Room & Sauna.

 Chowder Sales third Saturdays of the month.

 Third Warders Club Stag - $10 all you can eat, drink beer Sept. 2017

 Pools, Sign-in book, Pull tabs and Queen of Hearts weekly drawings.

 Sign up for excursions to OTB, Basketball games etc.

 Kitchen open for Chicken Wings and finger food during League nights.

 Our annual Super Bowl Party held every year with happy hour prices and

FREE food at the half.

 Family Picnic $10 per person or $20 per family (children under 20) with

face-painting, balloons and bounce house August 2017

 FREE Children's Christmas Party, Christmas & New Years Eve Celebrations.

 Annual Golf Tournament contact Keith Miranto at 531-0436.

 Monday Golf League – 40th year just completed.

 E-mail alerts to all who supply their email address.

 Membership Dues are $50 application behind the bar or on-line.


---