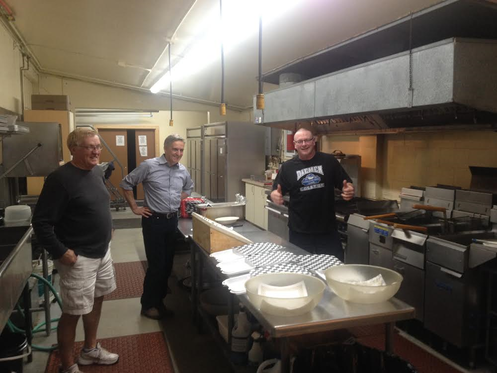 ​
THIRD WARDERS FRIDAY MENU
Yeungling Haddock Dinner $7.25
Chips or Fries & Cole Slaw or Potato Salad
Yeungling Haddock Sandwich $7.25
With Chips or Fries
(8) Breaded Shrimp $7.95
With Chips or Fries
(12) Pierogies – Potato/3 cheese $6.75
New England Clam Chowder
Bowl $4.00 Cup $2.95
Extra tartar sauce, potato salad, coleslaw, blue cheese all .50 ea.
---
Fish & Chips Sandwiches, French Fries, Homemade Potato Chips, New England Clam Chowder, 3-cheese Pierogies.....
Yuengling Beer Battered Haddock Fish Fry with fries or homemade chips or
Fish Sandwiches in the basket for $7.25 ea.....Goes great with Beer! Family friendly atmosphere.
Thanks to the crew John Laper, Pat Kennedy, Wayne & John Tylec, Jim Urbaniak, Tim Mislin, and Mike Janda for making our fish frys possible. Spread the word, the Fish is back at the Third Warders Club!


​THIRD WARDERS SOCIAL CLUB MENU
Available Mon., Tues. Thurs evening during winter months

Try one of our Signature Sandwiches
(All sandwiches served with French Fries or Homemade Potato Chips)

The "Click Click" Chicken Sandwich $6.50 Plump, juicy, fresh grilled chicken breast on Kaiser roll.
Your choice of mayo, lettuce, tomato & onion

"Bozo's" Chuck Roast Dilly Dilly Sandwich $7.25 Marinated chuck roast on a salt & pepper roll with horseradish.

Pulled Pork "Black Wolo" Sandwich $7.25 Tender, slow roasted pork, basted in BBQ sauce and served on a Kaiser roll.

The "Big Al" EYE-talian Sausage Hoagie $7.25 Hot Italian Sausage with mozzarella cheese, served on a hoagie roll.

The "Not so Grubby" Club Burger $6.50 Angus Beef burger served on a Kaiser roll with your choice of cheese, lettuce, tomato and onion.

"Snake's Babylon and On" Sandwich $6.50 Fried Baloney Sandwich with or without onions on a Kaiser roll.

FROM THE FRYER
Chicken Wings (Hot, Medium, Mild) (10)-(20)-(50) $8.35 - $14.00 - $31.30
Served with bleu cheese & celery

Chicken Fingers (Hot, Medium, Mild) (5) (10) $9.45 - $15.10
Served with bleu cheese & celery

Boneless Chicken Wings (Hot, Medium, Mild) (12) (24) (60) $8.35 - $14.00 - $31.30
Served with bleu cheese & celery

Pizza Logs (6) (12) $ 8.25 - $15.00
Served with Pizza Sauce

Reuben Bites (12) $5.00
Served with Thousand Island dressing for dipping

Potato Bites (12) $5.00
Served with your choice of gravy or sour cream

Jalapeno-Cheese Bites (12) $4.00
Served with ranch dressing

Basket of Fries $3.50

Basket of Chips $3.50